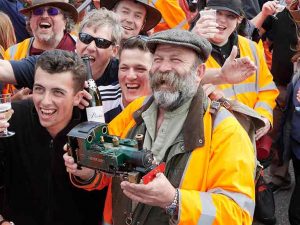 Back in the Victorian era they tried to build a rail link from Inverness to Fort William, it was an ambitious project to dissect the highlands but the cost, practicalities and in-fighting meant it never happened – Until now. A bunch of toy train enthusiasts and Love Productions (the makers of Bake Off) have filmed the creation, albeit on a much smaller scale, of this train line for a new show "The Biggest Little Railway in the World".
Stretching 71 miles across Scotland it takes 12 days for the 2 mph train to complete the journey having to overcome steep inclines and water hazards along the way with some ingenious engineering created to make it all happen.
The show is led by the man with the best moustache in TV one Dick Strawbridge alongside a team of model railway enthusiasts who laid out the 11 truck loads of track to complete the line. Episode One is on Channel 4 Sunday 7th January at 8pm – Enjoy.