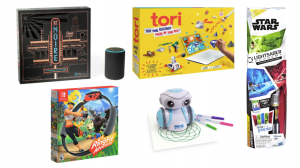 Hasbro's Lightsaber Academy, Virsix Games' St. Noire and Bandai Namco's tori have been named among the winners of this year's Kids at Play Interactive Awards.
CES is the showcase for technology and innovation. At the heart of this innovation is a multi-million dollar toy industry, and with this list looks committed to growing digitally-adept kids. For twelve years, the Kapi awards have brought together children's tech products that are above and beyond. Theses awards were developed by Living in Digital Times and Children's Technology Review and the awards ceremony takes place at CES 2020 in Las Vegas on Thursday, January 9, at 4:30p.m. at the Venetian Hotel, Level 4, Lando Room 4302.
The panel evaluated over 500 children's technology products with only a select few recognised as the most innovative games, software, devices and apps for educating and entertaining today's tech-savvy kids.
The 2020 Awards were evaluated by an independent jury of industry and editorial experts under the direction of Warren Buckleitner, Editor of Children's Technology Review, who looked for products that raised the bar for innovation and design excellence.
CES 2020 KAPi Jurors include:
Warren Buckleitner, CTR
Tonda Bunge Sellers, LIDT
Chris Byrne, The Toy Guy
Mary Couzin, ChiTAG
Amanda Gummer, Fundamentally Children
Caitlin Gutekunst, Creativity, Inc.
Ahren Hoffman, ASTRA
Dan Nessel, DadDoes
David Kleeman, Dubit
Reyne Rice, ToyTrends
Robin Raskin,  LIDT
Mark Schlichting, Noodleworks
Scott Traylor, 360KID
Valerie Vacante, Collabsco
Jennifer Wells, Parents' Choice
Meet the winning companies if you're around on Thursday, January 9 at 4:30pm at Kids and Family Stage at the Venetian. For more information, head to https://kapiawards.com.