New Ghostbusters sets anyone, Playmobil have created a wave of crackers to celebrate the film being 35 years young including a limited run of collector's edition figures. Get all nostalgic with these six new sets that include the four lead characters from the original 1984 film directed by Ivan Reitman. There is a limited number of extra-large Ghostbusters collectable figures: E.Spengler, W.Zeddemore, P.Venkman and R.Stantz. These must-have characters are 15cm in height and only 12,500 figures are being created so digit out on the double and grab yourself the full set sharpish.
Spengler (RRP £49.99) – Become the brains behind the Ghostbusters™ outfit, with the Egon Spengler figure. The pack comes complete with a proton backpack, proton emitters and everything you need to take on paranormal phenomena.
Zeddemore (RRP £49.99) – A key member of the ghost-busting team, Winston Zeddemore is on hand to help tackle paranormal pests. The figure comes complete with proton backpack, ghost trap and other essentials.
Venkman (RRP £49.99) – Known as the leader of the Ghostbusters™, Peter Venkman comes complete with proton backpack, proton emitters and other ghost-busting armoury.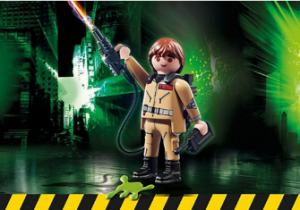 Stantz (RRP £49.99) – Described as 'the heart of the Ghostbusters™', Ray Stantz is renowned for his enthusiasm and knowledge of the paranormal world. R.Stantz comes complete with proton backpack, emitters and Ecto goggles to ensure even invisible ghosts don't go undetected.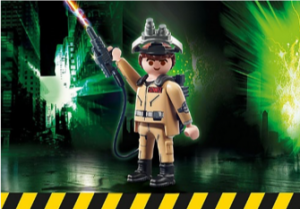 Ghostbusters™ Ecto-1A (RRP £54.99) – The ultimate toy for any Ghostbuster fan, the iconic van features a new design with interactive lights and sounds, as well as a removable roof, slime blowers and four Ghostbusters™ figures. It also includes a hologram pyramid, meaning ghosts quickly disappear into a trap. Each figure has its own proton backpack and proton emitters – everything you need to immerse yourself in the paranormal world of Ghostbusting!
Ghostbuster Figure Set (RRP £19.99) – The entire  team complete with Winston, Peter, Egon and Ray figures, as well as all the accessories every ghostbuster needs to investigate and battle the supernatural.