The moment is almost upon us, Stranger Things 2 gets aired tomorrow on Netflix and, well, the streets will be empty. Ideal timing for our goggle-boxes this new series if the perfect way to kick off your Halloween season and, if you've not seen the first series, binge watch that.  And so thanks to Hasbro we've some gaming based on the show to immerse ourselves further into the world of Upside Down starting with Stranger Things Monopoly where you'll buy, sell and trade locations and vehicles as you search the town of Hawkins for Will Byers. Community Chest and Chance cards are replaced with Walkie-Talkie and Blinking Lights cards. Instead of houses and hotels, there's forts and hideouts.
The second game is the super spooky Ouija Board which resembles the Christmas lights Joyce Byers hung up to contact Will in the upside-down. Sadly the board unfortunately doesn't light up when you've made contact with a presence beyond our dimension but hey ho.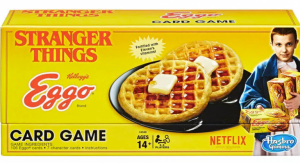 We also have the Eggo card game which makes reference to Eleven's love of Eggo waffles in the show. The card is similar to Uno with each player attempting to clear their cards before the Demogorgon attacks. More marvelous Stranger Things Merchandise THIS way.