London Comic Con ended with a bang yesterday as Hasbro announced their brand new Transformers line, Botbots! These pint-sized mechanoids are the latest in the 'Blind Bag' trend and as such have an impressive roster to be collected. 61 is the current count, which will be leaping up to 191 once 2019 rolls around so these might become the new pocket money sponge for some time. Hasbro's new range has a cute backstory in which lightning strikes a mall bringing all manner of food stuffs, hardware and gadgets to life. It's a shrewd move as the various sections of The Mall have spat out different 'Gangs' of Transformers, giving Hasbro a wide range of genres to pursue.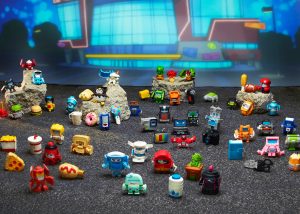 That scope has given Hasbro the ability to compete with Flush Force, LOL Surprise and Shopkins directly with their Toilet Troop, Sugar Shock & Greaser Gangs respectively.
They retail at £2.99 for one mystery toy but, if certainty is your purchasing preference they are also available in multi-packs that have the contents proudly displayed. In hand, though these newbies are smaller, the Botbots feel on par with the Transformers Legend Class. The plastic is of a sturdy quality and the transformation joints are very stiff, a little too much in some cases. Of the characters we've seen the design work is lots of fun.
This range is for a new generation of fans, not those weighed down with the deep lore of Cybertron. As such, they won't be for everyone but Hasbro knows this. We sat down with Ran Sun from Transformers Global Brand Team and Sean Carmine, the Senior Product Designer to chat about bringing a potentially controversial range into the Transformers universe. When asked about the fanbase's first impressions, it seems that Botbots have had a longer relationship with the Transformers Community than first expected.
'When we pitched them [Tranformers fan sites like Seibertron.com] the idea about Botbots they went crazy! They have families of their own, they we're saying we'd love that. Are you kidding me? My kid collects all these things and she'll want to collect them all. We were very, very confident about Botbots before we launched at Comic Con.' – Ran Sun
'When we first started designing those characters, the response we got from the team was over the moon. So we really knew we we're on to something new and fresh for the brand. So the first time we showed it people were like 'Wow, I've never seen Transformers like this before' So, I think from there we got the wind behind us and it's amazing. The more we talk to fans and their love of the brand it makes us want to go to new places and bring in more, new fans because it's such a great community.' – Sean Sean Carmine
So, what do you think about the latest addition to the Transformers Universe? Are you going to be collecting them all or sticking to your Classics Line?