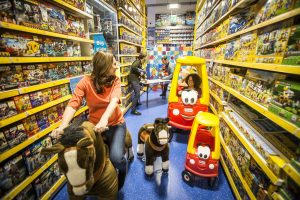 The Kidult market is worth over £300mn in the UK, that over 1 in ten adults buying toys for themselves (or pretending it is for a friend). The folk at Barclaycard have teamed up with Smyths Toys and are opening up a 'Big Kids Aisle' at their London Staples Corner store in time for Blue Monday, the 15th January is traditionally known as the most depressing day of the year. No need to make it duvet day then if you're able to get along for an in-store play then, grab friends in fact and have a play date even if you're not close to Staples Corner. Lets reclaim Blue Monday and make it a National Kidult Play Date. Bosses, we're sorry, but bad excuses for non-attendance are currently being formulated across the land. See you for some colouring in at the top of the slide.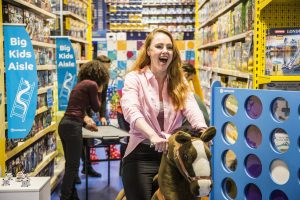 The aisle of classic and modern toys was created to turn Blue Monday into Blue Funday with over half of adults (51 per cent) saying that playing with children's toys and games is stress-relieving.
Top ten 'big kid' buys for adults
| | |
| --- | --- |
| Rank | Toy/game |
| 1 | Colouring book |
| 2 | Cuddly toys |
| 3 | Board games |
| 4 | Jigsaws |
| 5 | Lego |
| 6 | PlayStation |
| 7 | Connect 4 |
| 8 | Action Figures |
| 9 | Beanie Babies |
| 10 | Xbox |
The Big Kids Aisle at the Smyths Toys Superstore will be filled with retro classics such as Tamagotchis, Teddy Ruxpin and LEGO as well as current favourites including Cozmo. Specially for the aisle, life-size board games and adult versions of kids' toys such as the increasingly popular Pony Cycle will also be available for shoppers to try.
<iframe width="480″ height="315″ src="https://www.youtube.com/embed/tsuPs8ghT1Y" frameborder="0″ allow="autoplay; encrypted-media" allowfullscreen></iframe>