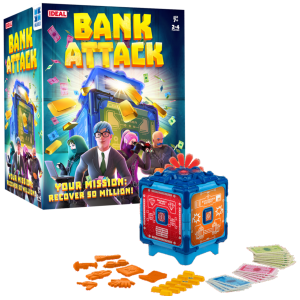 "Skilful Rascals." That's how journalist Noni Mokati describes a gang of thieves behind a 1977 bank robbery in South Africa. Renting an empty shop near the Krugersdorp branch of Standard Bank, the ne'er-do-wells – led by a figure known only as Mr. Nightingale – took three months to tunnel 21m and access an underground vault. Inside they found currency worth millions in today's money… But could the gang's audacious plan really pay off?
The ingenuity of this real-life raid came to mind when I first played Bank Attack. Distributed by John Adams, the fast-and-furious cooperative game asks you to assemble a gang, then keep track of your tools, people and money… To win, you must follow simple instructions, crack the safe and collect the gold bullion. If you're picturing a role-playing card game, though, I'm doing it a disservice. Let's go back…
Do as you're told to get the gold
Bank Attack comes with a colourful plastic vault – roughly 11cm x 11cm x 13cm… There are five speed settings for the action – and the faster it's set, the more you sweat! In the middle of the vault's four side panels are buttons. You must press these when asked, continually confirming that an action has taken place. To start, each of you identifies yourself as a gang member: Explosives Expert, Money Man, Lookout or Hacker.
Once you've told the vault which role you're playing, a drawling voice instructs you to start passing around numerous representations of tools at a breakneck pace: goggles, explosives, gloves; a headset, a drill, a map, torch and laptop: "Money Man – get the map"; "Hacker – use the headset…" You, of course, rush to keep up, intermittently confirming which objects are where and simultaneously pushing the player buttons. If anyone makes a mistake, though, there's a chance you'll trigger the alarm – three errors and it's all over…
You could just break in for real…
Adding to Bank Attack's beautiful, stressful chaos is the way the vault also instructs you to move money from piles of banknotes. All along, the vault teases and tantalises: the top section s-l-o-w-l-y raises as it opens… And to what end? Well, if your miscreant team is successful, the vault finally pops open and spews out gold bullion in a truly-satisfying cascade. I often see people spontaneously applaud themselves at the end of their first successful raid… At this point, if you asked me whether the game literally gives you a dopamine hit, I'd be willing to stand up in court and swear that it does!
Speaking of which, remember the gang that found a fortune in the Krugersdorp bank vault? Intriguingly, they didn't just steal the money… They also made a flawless getaway: apart from one otiose e-fit of "Mr. Nightingale", there were absolutely no leads. To this day, no one has ever been arrested for the crime: Skilful Rascals for sure.
Did you seen this man in 1977?
Bank Attack is for 2-4 players, aged 7+, and available to buy from Argos, Smyths, amazon and The Entertainer. SRP £24.99.