All manner of Marvel superheros are coming together in Avengers : Infinity War, well it going to take plenty of superpower to beat mega villain Thanos. There are as you'd expect toys a plenty from which to choose associated with the film, here's an almost handful of ones that caught our x-ray vision eyes:
Tech Will Save us – Electro Hero Kit – £29.99
Test new tech on Captain Americas shield, help Hulk break through a wall and find power for Iron Man – Three missions inside this box containing dough cutters, LED's, wires, mats and a battery pack. Finish the contained missions and then off you go to create your own.
Marvel Legend Series – Infinity Thanos Gauntlet – £99.99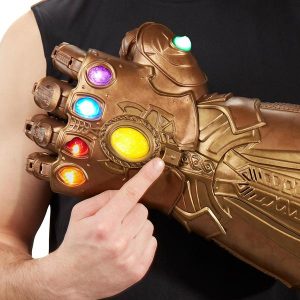 Lift up the power of those Infinity Stones and take control of the galaxy from your front room. This is one fine looking piece of kit, premium design and intricate detail on the gauntlet and 6 light-up Infinity Stones. Features pulsating light effects, movie-inspired sounds, and individually articulated finger movement, as well as a fist-lock feature for display.
Hasbro – Marvel Avengers Infinity AR Iron Man mask – £46.99
This Iron Man experience contains a 1:1 scale mask and brings together role play with AR tech. The pack includes AR mask, goggles, gauntlet, three AR markers and an infinity stone. You'll need a smartphone to load up the Hero Vision app to enjoy the full experience, stick yourself in this heroes shoes without placing yourself in any peril.
LEGO – Sanctum Sanctorum Showdown – £89.99
Fire escapes, four minifigures, rooftop water-tower this set has some fabulous features and for a three floored apartment isn't bad value. Inside is a pizzeria, Doctor Strange's Sanctum Sanctorum and Peter Parker's apartment and includes the Infinity Stone we get Peter in his officially titled "Iron Spider-Man" suit.