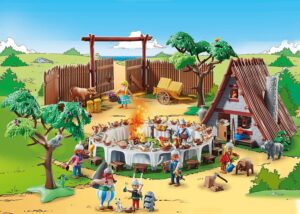 We're certainly thinking that the Danish brick builder missed a trick here, but, looking at what Playmobil have created are also in the mind that they were the perfect partner to bring this iconic character to life.
For those unaware Asterix started as a comic strip, then his own book, TV cartoon and even into a very average big screen affair – French and funny. In summary it followed a village of Gauls in 50BC fending off the Romans, they did this using magic potions brewed by a druid called Getafix with the main characters being Asterix and his friend Obelix.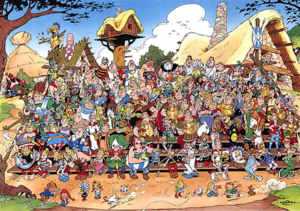 The Asterix series is one of the most popular Franco-Belgian comics in the world, with the series being translated into 111 languages and dialects. And now, to the sets. They range from £20 up to £155, the main event being this Asterix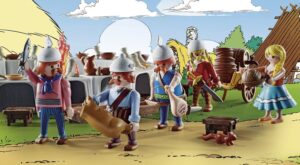 The Village Banquet – 70931 – A 310-piece play figure set including a gate, house, Asterix figure, Obelix figure, Dogmatix figure, five Gaul figures and 300 accessories to create on of the finest Playmobil sets we've seen. This has definitely loads of play value but it also look superb set out on the shelf. Clear away those dated trinkets that sully your shelves and replace with this outstanding item. We've included a snapshot of some others to be found in the range.