For three days last week under the resplendent glass roof the Olympia exhibition centre the great, good and somewhat questionable folk of the toy market came together. These coming weeks see's the bulk of this toy army head off to the worlds biggest toy fair in Nuremberg (75,000 new products and over 1mn overall) and then onto New York which is possibly the coldest and where the biggest toy licences attached to films for the coming year are announced/unveiled. The media were 0out in force uncovering some of their favourite picks for the year ahead, STEM products and Drones were identified as trends for the year ahead as well as the raft of Batman LEGO plus, possibly, the biggest offering of brilliant new board games we've seen in a while. Here's some of our pictoral highlights (aka evidence we were really there :
Bush Tucker grub and games from TOBAR
The Sock Game, 30 identical items in each sock, flick the spinner, race to find the object first inside said sock – Simply brilliant.
Miniprop offer an oversized version of those pocket money polystyrene planes you piece together and then hand-launch. These models fly a very long way and, by moving the horizontal stabiliser at the rear down a centimetre the plane performs almost perfect loop-the-loops.
Fingerlings. Six to collects, each one responds to touch, movement and even when you blow on its nose there's a reaction. Cute and under £15 – Arriving from Wowwee around April time
Prime up the three sided stix and pile each one in turns on the box. Keep your nerve as at any time they're likely to unleash themselves upwards. From Character.
Just a prototype on display but slot racing Hot Wheels with exciting banks and loop-the-loops, yes please.
Mardles are starting to make quite an impact with their Augmented Reality story books so for something a  bit different they've this range of masks that'll turn you into a collecting of entertaining characters.
A wall climbing Gecko that you build from over 170 pieces. Marvel as its suction cups clasp onto the wall and try to refrain yourself from reaching to catch it as it moves monolithically toward your ceiling.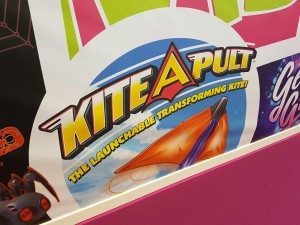 It is fun to watch others running along trying to launch a kite skyward but not do it yourself. Salvation is at hand, launch this one with a super strength elastic contraption and catch the wind.
One of the outstanding adverts inside the Toy Fair daily newspaper – Was the designer a Village People fan?
And a round-up of the Top Techie toys from the fair in the Metro..
Mr Tumble and me, Paddington Bear makes three…..