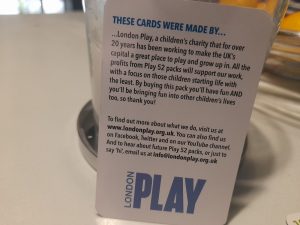 Charity London Play devised this pack of 52 things-to-do as past of their pandemic lockdown play packs and they went out to 2,000 kids. Now they're available to buy, and, at just short of a fiver going to said charity they're danged good value.
The cards each feature a playful idea or game for kids and the aim is for the cards to spark imaginations and get creative. This could be through messy play, noisy play, outdoor games, indoor activities, or play for small spaces, queues, and in the car.
Game play will encourage children to hunt down props and items to help them with their imaginative play, encouraging them to seek out scarves, plastic containers, balloons or pencils, and engage children with no-tech playful solutions.