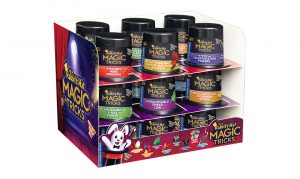 These portable mini magic kits won't be with us in time for this Xmas sadly, but at about a fiver each are definitely ones to watch for 2020. Each small top hat contains the props and instructions to perform two or three simple magic tricks each with a different theme — from shape-shifting to mind-reading to x-ray vision. Morph hankies into eggs (Ooooh), see through solid objects (aaahhhh), read your audience's mind (ooohh),  cut a rope and magically heal it (bravo), make objects vanish and reappear in different places (whoah),  pass spikes through solid objects (wowww). Eight hats to collect each with online video tutorials.
Can't wait and need a magic trick fix for Xmas, here's a couple of alternatives already out there for you:
Forty props, 35 tricks, aimed at 6+ people – Thames and Kosmos hat is well worth a punt at £22
Magicians outfit (plus plush rabbit) for kids – Your audience will be wowed before you've done a single trick.
You'll need some patience and plenty of practice to pull these tricks off with aplomb but it'll be well worth it. Fifty greatest card tricks in a tin from Marvins Magic.