Launched in this, the 30th year since the film was made Labyrinth The Board game, endorsed by Jim Henson is arriving with us later this summer. Gameplay has Sarah trying to defeat Bowie/ Jareth and his Labyrinth or perhaps the the Goblin King turns little Toby into a goblin baby – Thirteen hours (not actual gameplay time) to find out! For £40 this is a must have for fans of the film.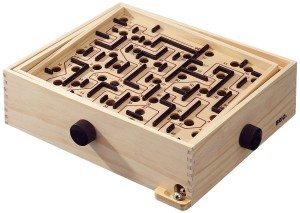 Another firm favourite of ours is the knob-twiddling, frustration creating, ballbearing balancing game of Labyrinth, this variant from Brio, certainly the priciest of all on offer but beyond compare when it comes to build quality. Make your way around the maze by twisting the central playing surface from side-to-side and see what number you can achieve before aforementioned ball disappears into oblivion.
Our inspiration to take a trip through maze games today was inspired by a multi-award wining boardgame from Ravensburger called? You guessed, Labyrinth.  Play with 2-4 players and divvy up the playing cards (24 in total) and set up the 34 wall tiles and begin to take turns with one of the unique wizard-like play piece designs. There are a number of immovable tiles on the playing board and, upon your turn you'll push the spare tile in to alter the shape of the maze and allow you to approach your target, the image on your next playing card. Each time you might be assisting or otherwise another player in their quest. there is a junior version of the game but 5/6 year olds can grasp this one pretty easily so jump right in. Its discounted to under £16 right now at Amazon and on Prime too so you could be playing tomorrow. There is a Star Wars version we've just spotted and are making space on the shelves for that version.