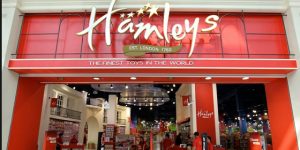 Increasing incomes and an increasing popularity of brands like Peppa Pig and Thomas & Friends are accounting for some of the major growth in the Chinese toy market.
China is about to open the world's largest toy store in time for Christmas Day, 10,700 sqm Hamleys in Beijing – That's double the size of the one in Regent Street, London.
This is Hamleys third outlet in China as the big wigs at footwear retailer C. Banner International, who bought Hamleys a couple of years back, are looking to make the most of the opportunities of their home market since the one-child policy was abolished two years back.
Retailers in China are beginning to embrace Western culture such as over indulging at Christmas, certainly not from a religious standpoint, but very much the commercial opportunities.
"This is why we opened before Christmas," said Jason Ji, chief marketing manager of Hamleys China. "Because we wanted to get the Western holiday atmosphere.
"We want the parents to get the feeling of how we celebrate Christmas in the UK and in other countries. We want to bring that culture to Beijing."
Hamleys new megastore is located yards from Tiananmen Square and the mausoleum of Communist revolutionary leader, Mao Tse-Tung.
Five floors of playground – we await our invite to pop and have a look.