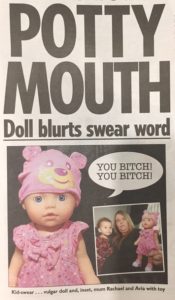 Why do stores and online retailers slash prices? New year sales, end of season sales, closing
down sales (there is a clothes shop near us that has been "closing down" for three years) the dreaded Black Friday weekend/week sale – and many others. These sales are the retailer plots to shift old/discontinued/last seasons/unpopular stock and give the customer the chance to 'grab a bargain' and, whilst there, perhaps buy something else at full price.
That's fine, we the consumer understand this contract and we roll with it and spend our money. Maybe just maybe a store might try to get rid of a particular product and rid itself of the guilt?
Behold the 'My Little Baby Born Walks Doll' from Zapf Creation. She's sweet enough until she speaks… she is supposed to say 'Mama' & 'Papa' but a family in Birmingham who bought her for their daughters second birthday have reported that this little Potty Mouth actually says 'You Bitch!' instead
This alleged foul mouthed infant is available from Toys R Us for £17.48. Half of RRP, thanks  Toys R Us for your festive generosity, or are you just having too many sleepless nights and need to get these shifted?