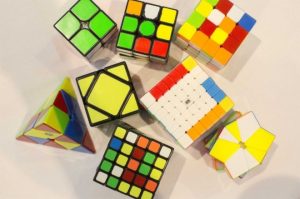 Granted a Royal Charter in 1281 to hold a weekly market and annual fair the town of Stevenage again made the record books at the weekend. Competitors from the four corners attempted a multitude of Rubik cube based disciplines including solve the cube in under 10 seconds, use your feet and completing the cube blindfolded. The UK speedcubing championships hosted over 240 competitors, each looking to attain the cubing status of legend. A new European record in the 3×3 One Handed was secured by Philipp Wyer from Germany who did so in a staggering 7.77 seconds – the fastest global time ever recorded.
Rubik's UK distributor and sponsor of the UK Championship, John Adams, invited magician Tom Crosbie to create an impressive double sided Rubik's Cube mosaic.
A new National 3×3 one Handed record was achieved by Ciaran Beahan from Ireland who completed the cube in 13.69 seconds, while Callum Hales-Jepp from the UK secured a new National Record in the 3×3 with feet in a time of 38.91 seconds. Harry Savage from the UK hit a new National Record in the 3×3 Fewest Moves using just 26, while the UK 3×3 Rubik's Cube Final was won by Robert Yau who regained his previous title of UK Rubik's Cube Champion with a new best time of 6.95 seconds. Other competitions in the three-day event included speedcubing the: 2×2, 4×4, 5×5, 6×6 and 7×7 cubes. There were additional 3×3 cube events using one hand, fewest moves and with feet, 3×3, 4×4 and 5×5 blindfolded, Pyramix, Square-1, Megamix and Rubik's Clock also took place. WE don't even know what the last few are and couldn't care less, it all sound far too exciting – What a time to be a NERD. NERDS Rock!