Yesterday marked the birth of the world's latest supercar. This hand built, custom made rarity boasts a 1700kg weigh in and a 0-60 of, well… never, it's also made of LEGO. This McLaren Senna may not top any race leader boards but it certainly won our hearts. Constructed of nearly half a million bricks she took almost 5.000 hours to create from concept and if you ask us, it was time well spent.
The team of 10 model makers painstakingly hand-assembled the Senna over  2,725 hours, 300 hours longer than it took to build the real Senna! In total it took a team of 42 men and women and 467,854 bricks to fully realise this epic project.
It may not be able to move but that doesn't mean she hasn't got a few surprises up her vents. The LEGO Senna is the first ever interactive McLaren model and was built to be sat in and played with. Opening the doors may take a quarter of an hour (not to mention a total removal) but once you're in you can turn on the lights, play with the touch screens and even switch on the engine to give it some revs! It's all very magical and luckily McLaren aren't keeping it to themselves, their LEGO Senna will be visiting events around the world to give every kid, big and small the chance to play with this wonderful one off.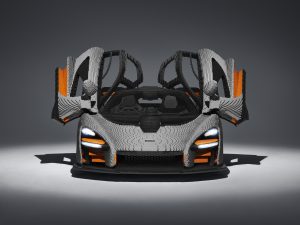 Should you not be lucky enough to own one of the 500 real Sennas worry not, LEGO have you covered with their 'Champions of Speed'  Senna. These are a little bit smaller than their 1:1 scale one-off big sister and a tad cheaper to boot! Retailing at £12.00 this 30-60 minute build is a great addition to the already impressive line of mini-mega cars. Some stickers are required but where they may detract from the purist's experience the ingenious use of  axe blades for headlights and an upside-down cockpit canopy will raise a fair few smiles.
So, whether your budget is pocket-money or rocket-money LEGO and McLaren have you covered! Even when she's made out of thousands of bricks the Senna is an elegant, epically flowing piece of automotive mastery.